Wiesbaden, 25/06/2019. Bode-Panzer GmbH adds yet another chapter to its story of success by investing in its future. The specialist for VDS-certified safe and vault solutions will soon be opening a new central warehouse at its production site in Rajhrad in the Czech Republic, a move that is aimed at optimising the internal logistics processes. Moreover, the company began operating a new Trumpf bending machine back in April, which speeds up the manufacture of single pieces.
"Our excellent business position is making demands on our logistics operations," explained managing director Frank Steinhardt. "The new central warehouse will enable us to deal more efficiently with the high volume of orders."
The new central warehouse has an area of more than 900 square metres; at the moment, all purchased parts are stored here, but it will in addition serve as an intermediate warehouse for finished products.
"Bode-Panzer will benefit from the new facility at many different levels," stated Steinhardt. "The construction of the new warehouse lays the foundation for optimised warehouse management and concurrently the ongoing reconciliation of the target and actual figures for the consumption of materials."
Bode-Panzer had previously invested in a new bending machine from Trumpf at the beginning of the year, and the successful operational startup of the equipment was in April. It makes the production of single pieces significantly faster and provides automatic measurement of target and actual dimensions. "The machine that was previously used had simply reached the limits of its capacity — especially in terms of the time and effort required for programming it," according to Steinhardt. In comparison, the intuitive menu navigation of the new bending machine is a convincing feature that makes programming simple and substantially faster.
These new investments are a continuation of the course Bode-Panzer has laid out for its future development. Bode-Panzer has been just as active in this respect in past years, investing in production technology and production sites so that it could meet special customer needs relating to delivery dates and delivery quantities or other demands.
Wiesbaden, 12/11/2018. Bode-Panzer GmbH sees no reason not to look ahead to its 161styear with confidence. After all, the demand for high-quality, VDS-certified safes and vaults remains high even in this day and age of digitalisation.
"We are so incredibly proud that we have been able to continue successfully the history of this company over so many years," said Frank Steinhardt, managing director at Bode-Panzer. More than 250 employees at the production plant in the Czech Republic build more than 100 safes and vaults every day, which are then sold via a worldwide network of dealers and directly to end customers.
"During the many high and low points of our 160 years of company history, we have acquired a tremendous storehouse of experience that we can draw on for our benefit and, above all, for the benefit of our customers. Continuous innovations, an understanding of the many different needs and demands on the markets and far-sighted business acumen and willingness to invest drive us onward."
In the last two years alone, Bode-Panzer has invested in production technology and production sites that contribute to satisfying the special needs of customers such as delivery dates and delivery quantities.
The certified single and system solutions that the company with a long tradition produces itself can be found in use all around the world today and protect countless items requiring special physical protection — for instance, in the banking and retail sectors, in the OEM field or even for private individuals. Bode-Panzer is not only a leading manufacturer of high-quality safes and vaults; the company is today respected as a provider of complete solutions for security, process optimisation and logistics.
In addition, Bode-Panzer holds a strong position as an attractive employer in the production region Czech Republic. "We could not be so successful without our employees, from welders to bookkeepers. That is why I want to express my most sincere thanks to our entire team," emphasised Steinhardt.
After a successful year, we would like to thank our customers and business partners for a pleasant and trusting cooperation. We wish You and Your families a merry Christmas, happy holidays and look forward to new projects in 2017!
Your team of the
Bode-Panzer GmbH
An exciting and successful year is coming to an end. In 2015, Bode-Panzer GmbH and its high-quality products has convinced again ATM manufacturers, value service providers, retailers, banks and savings banks all over the world. Additionally company presented itself in a completely new corporate design. The new modern and charming corporate design combines Bode Panzer`s tradition, development and technical progress. Regarding this foundation company will continue to grow in the coming year. "A key success factor for our business is our people," says Frank Steinhardt, CEO of Bode Panzer. "You and all our customers and business partners extend my sincere thanks for a pleasant and trusting cooperation."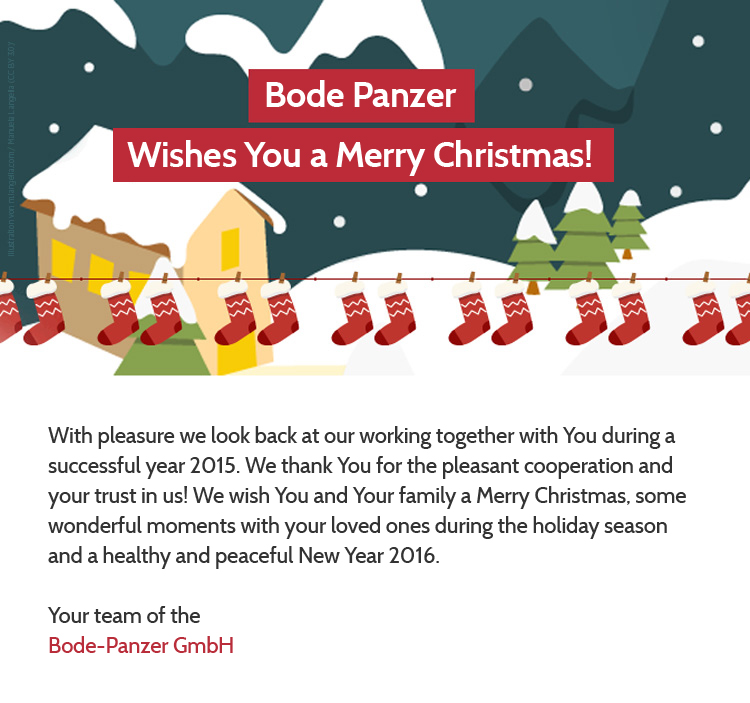 As main sponsor of this year's 6th ALVARA INNOVATIONSTAGE, Bode-Panzer GmbH is very satisfied. A total of 146 representatives of banks, savings banks, securities services companies and retailers and associations attended the event on 28 and 29 September 2015 organized by the ALVARA Cash Management Group AG in Leipzig. With slogan "Vision 2015 – We make sustainable cash processes" made the initiators clearly in tune with their guests. The 15 keynotes, for example of the Frankfurter Sparkasse, Commerzbank AG and REWE Group led the audience through the latest developments, challenges and promising solutions. In addition, representatives from medium-sized businesses and value-added service industry peculiarities, experience and current emergency solutions for cash management in the interaction between businesses and banks.
It is not possible to fit every lock to any safe, as some of them will have different locking systems. What's more, a lock may only be installed in a safe cabinet if it is certified in combination with the model (lock list). Please refer to each manufacturer's lock list to see which lock can be fitted to which model.
As a rule, the following lock designs are installed:
double bit security locks (always provided with two keys).
Benefit: you do not need to remember a numerical code for these safe locks, or write the code down in a 'secret' place.
In the event of burglary, it is easy to trace who might have opened the safe with his or her key. Numerical safe codes, in contrast, can frequently be passed on without precise knowledge of how often this has taken place.
Drawback: in most cases key management is a laborious affair. No more than 2 keys exist for each lock. Service teams need to pick up the key. It is difficult to procure a replacement in the event of loss.
Mechanical numerical lock (the numerical code can be adjusted independently and at any time using a reset code. Naturally, only the owner of the currently valid code is able to perform a reset).
Benefit: you do not require a key to open this kind of numerical lock, which means it cannot be lost (mental lock).
Drawback: the combination can be passed on any number of times without control. In most cases the reset process is extremely elaborate. The combinations should be changed in regular intervals.
Electronic lock (codes are input – usually between 6 and 8 characters – via a keypad. Besides the basic functions, individual models come with software versions that can be installed in the locks to suit individual areas of application as required, e.g. with a time delay according to the accident prevention guidelines governing cash desks in banks [UVV-Kassen].):
Benefit: you do not require a key to open this kind of numerical lock, which means it cannot be lost (mental lock).
Drawback: the combination can be passed on any number of times without control. In most cases the reset process is extremely elaborate. The combinations should be changed in regular intervals.
Electronic locks are now standard for safe cabinets. Seeking to optimise processes, also to allow for flexible HR deployment/external contracting of cash-in-transit services, a large number of financial institutions are currently refitting mechanical locks with electronic locks.
Bode Panzer provides a comprehensive selection of mechanical and electronic locking systems. Among others, our range of locks includes the manufacturers SAFECOR, INSYS locks, pylocx, KABA or SARGENT and GREENLEAF.
Contact us now!
Bode Panzer offers individual accessories that simplify assembly in your self-service zones, and that offer additional options for the individual design.
Our tested and certified installation frames allow you to adjust the height of the devices to suit the needs of the individual place of deployment.
Integration of self-service equipment in foyer solutions frequently necessitates that the devices be fitted within the walls. Bode Panzer has individual solutions here that also suit the standards of your interior design.
We seek at all times to satisfy your requirements. We would be delighted to listen to your individual wishes, and will manufacture your bespoke ATM safe precisely according to your specifications. Here, we attach the utmost importance to the highest quality standards, while guaranteeing adherence to applicable safety regulations. Our individually developed safe solutions are used throughout the world. ATM manufacturers see us as a partner who understands and flawlessly executes their wishes. Our faithfulness to agreed budgets and schedules can be relied on at all times.
Our ATM safes in security class IV EX are available with a wall thickness of 60 mm as a standard feature. Besides tried-and-true protection against mechanical and thermal attacks, this model series also comes with protection against attacks using solid explosives.
The compact locking system that we use enables easy retrofitting of the lock in the future, even without requiring additional mechanical work on the safe.
Naturally, our ability and willingness to customize means we equip our safes to meet the individual needs of our clients, and that we also deliver OEM solutions.
The safes in this model series are tested by the Swedish test institute SP Boras.