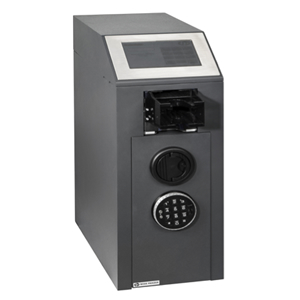 With BodurCube Retail, you can benefit from a system, which is used primarily by retailers in back office for the management and storage of the day's receipts due to its defined intrusion protection. Every deposit and every change is documented by a receipt document. This means that cost-intensive cash-in-closures in the four-eye principle are not needed anymore. In addition to the optimization of the processes, the solution contributes significantly to the protection of employees and value. It is, of course, possible to integrate into continuous cash management processes, to the control of the value transport company and a possible cash deposit of your deposits. The user not only convinces the ideal process support through the device, but also the easy and user-friendly handling of the note counting system. As an option, the BodurCube Retail can be equipped with a deposit system for the reception and administration of unreadable banknotes, vouchers and coins or safebags. A one-time code system can also be integrated as an option for an additional hedge of the valuables.
Our standards
Stacker Cassette
Capacity of 2000 banknotes
Processing of 30 notes per minute
Burglarproof protection cabinet with 8 mm steel plate
Insurability up to € 40,000 through supplementary insurance
Equipped with PC system, touchscreen monitor, receipt printer and LAN network connection
Dimensions 600x230x410
Weight approx. 60 kg
Standard WEB interface for managing the system parameters
hierarchy Administrator / User / CIT / Service
Store all transactions
Prepared for network connection
Preparation for anchoring
Your options
Provisioning system for recording and managing non-readable Banknotes and coins (in Safebag)
WTU lock (single code)
Integration into the customer software Alvara, Prosegur, and SoftOne
Installation, training and installation on site
service contract

Datasheet-BC – Retail

Datenblatt herunterladen !ENGLISH!.